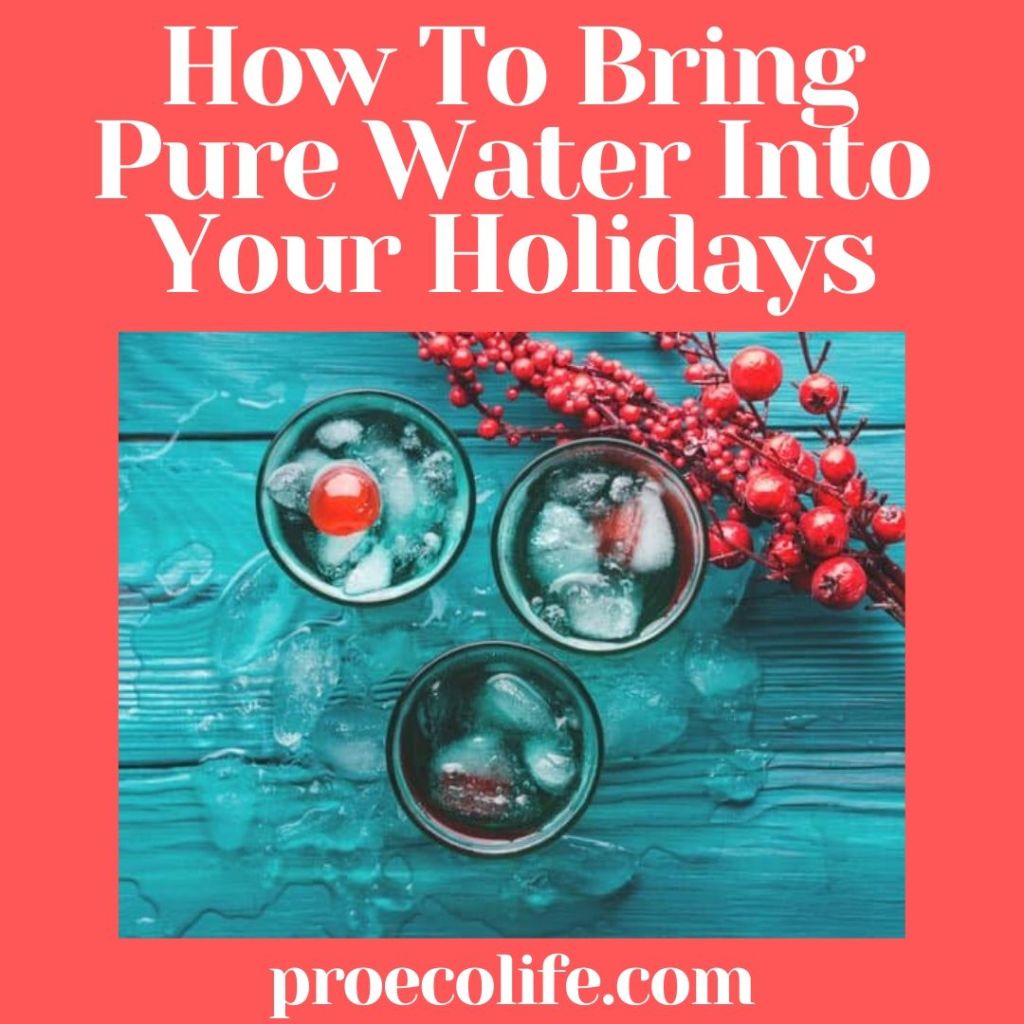 With the holidays swiftly upon us, our minds are filled with shopping for presents, planning large feasts and making sure our homes are ready to greet loved ones.  There is always plenty of banter, activity and yummy themed treats to devour and distract us which can lead to dehydration.  That fatigue and listlessness you might be feeling is probably less due to the overwhelming list you need to accomplish and more to do with the fact that you aren't staying hydrated.  While it happens to the best of us, here are a few ways in which you can include more water into your holiday plans.
Holiday Cocktails – There sure are an abundance of tasty themed cocktails one can enjoy over the season such as champagne, eggnog and Manischewitz, but breaking it up with water is key.  Start your evening with a glass of clean water.  Follow this up by consuming a glass after each alcoholic beverage.  Alcohol naturally dehydrates your body so this will keep you running in prime condition.  Another key benefit is that by breaking up the drinks with water, you are pacing yourself much better and avoiding becoming too intoxicated to enjoy the event.
Hungry? – The holidays are also a prime time when we indulge on food and sweets but at some point we may be overindulging.  Some folks even become stressed during the season and are more likely to reach for a sweet treat to relax but the truth is that water can help you on both fronts.  When you feel like reaching for food, try a glass of water first.  Often, we think we are hungry and it turns out that we're simply thirsty.  Staying hydrated can help curb cravings and keep off pesky pounds by making you feel fuller.  Pure water is also refreshing for your system and is likely to reduce your stress by keeping you alert and oriented.
Carry It With You – This is perfect for the entire season of activities, not just parties.  If you feel like an event might not have a keen focus on providing water, you will have your own with you in a reusable water bottle.  What it is truly great for is all of the holiday errands you will be running.  You should stay hydrated throughout your day but often we are so consumed with driving, shopping and set up that we tend to overlook the fact that we might need a little H2O.  Having a water bottle with you will keep your body in peak condition so you can accomplish those tasks easier.  Another great place to have a water bottle?  When you are outside setting up holiday decorations.  Sometimes hours go by while you hang lights or put up that plastic, lighted Santa and you have completely forgotten to take a water break.  Having a water bottle on your ladder or near your decor can offer a visual reminder that you need to stop and intake.
Tea It Up –  The bitter cold of the season often has us turning to festive beverages, such as hot cocoa, to keep us warm but you may want to opt out of this for a few nights.  Drinking tea or other water-based beverages ensures you are getting much needed water to your system.  You can even drink peppermint tea to stay in theme!
Chapped Lips – In the winter, dehydration works a bit differently.  Instead of us losing water from sweating, water evaporates from our skin more quickly.  This is why we get chapped lips and flaky skin.  While lotion and lip balm can help soothe the issue, to truly remedy it, drink water.  Your body is telling you that you aren't getting enough so take the time to replenish before it gets worse.
Taking the time to make sure water becomes a bigger player during your holiday activities is a great way to keep your body healthy and happy.  You can even offer a hydration station during parties that you host.  The best type of water to consumer is water that has been cleaned during a reverse osmosis or distillation process so be sure to have some on hand for your guests.  Check out The Health Benefits Of Pure Water to find out what exactly it can do for your body.  So, grab that water, refresh and get back to enjoying the season with your loved ones!
Not sure if we can supply your unique space?  Have questions about how our filtration system does what it does?  Contact
ProEcoLife

today at

312.889.8888

to speak to our amazing staff!